Det här är en artikel jag skrev för 2 år sedan, men jag vill gärna dela med mig av den nu. Vi närmar oss snart samma tid. När hela naturen börjar bli ätbar.
_______________________________
-Tog du med vinflaskorna?  Jag var stressad och pratade i mobilen när jag ropade till min vän och kollega Markus när jag hämtade upp honom utanför vår restaurang.  Det var tidigt måndagmorgon och vi var trötta. I bilen på väg till vårt mål konstaterade vi att vi glömt både vin och öl och att det antagligen skulle bli en ganska torr tillställning.
Markus är kökschef på vår restaurang, och jag kallar mig för restaurangchef. Vi har bara öppet tre månader per år, de vackraste månaderna som finns i Sverige. Men vi har ett stort tryck och hög omsättning under dessa månader så det gäller att hålla tungan rätt i mun och leverera. Det är en stressig period och speciellt innan. Telefonen ringer i ett och tempot är högt.
En månad tidigare hade jag fått en inbjudan av Svenska Hushällningssällskapet om en utomhusmatlagningskurs, Wild food on the table, och jag såg det som ett ypperligt tillfälle att ha en liten kickoff så jag skickade runt inbjudan till våra branschkollegor och några nappade.
Om jag ska vara helt ärlig såg jag inte kursen som det primära, utan mest chansen att få använda detta dygn till en liten minikickoff och få dricka vin och prata med kollegor innan säsongen skulle dra igång för fullt.  Jag gick inte ens in på hemsidan till vårt besöksmål. Jag trodde att jag sett det förrut. Been there. Done that.
Men det är märkligt när man är oförberedd för man är så öppen och därför redo för att överaskas
På Urnatur utanför Ödeshög i Östergötland möttes vi av det mest märkliga och fantastiska fenomen. En jägmästare som levt med indianer och jobbat med ekoturism hade tillsammans med sin fru textilkonstnärinnan (man kan köpa sofftyget här), biologen och örtsamlaren skapat en oas av ekosofi. Fast inte på det gamla vanliga sättet utan med en fingertoppskänsla för design, nytänk och gamla traditioner. Vi var inte de första som förälskat oss i denna plats. Fotografer, konstnärer, kreatörer, musiker och företag från hela världen hade använt Urnatur som scen för sina skapelser. Det räckte med att kliva in genom grindarna så slutade mobilen att fungera och jag kände jag mig magiskt beslagtagen.
När vi gick på stigen som kantades av fårhagar, stenrös och hundraåriga gamla ekar och in genom grindarna till Skogserimitaget där vi skulle bo så slogs jag av harmonin i  hela området. Som om den som hade byggt det hade den yttersta kunskapen om hur man hittar balans. Med färger, former och detaljer. Kändes så nytt fast samtidigt bekant, traditionellt , enkelt och självklart. Jag antar att det var kombinationen mellan två människor. Konstnären och skogsentreprenören.
Det första huset som mötte oss hette Luftslottet och hade en snirklande stege upp till ett bedårande kärlekshus uppe i träden. Hängbroar ledde ut till de andra träden och skapade en förhöjd känsla med smak av barndom. Ni vet hur man älskade trädkojor när man var liten. Det här var en trädkoja för vuxna. Med stora vackra fönster, snirklande snickarglädje, en säng med vita strukna lakan och i mitten tronade en varm kamin. Tänk att få vara en fågel och få bo bland trädkronor.
Efter Luftslottet följde Pilgrimstugan, Hattstugan, Kolarkojan, Mosstemplet och så fortsatte det med sagonamn ända tills Badhuset som var ett hus med bastu, badtunnor och soluppvärmda duschar. Alla husen skilde sig från varandra. Skapade utifrån sina egna förutsättningar.
Jag hade helst velat stanna vid de här husen hela dagen. Lyssnat på fåglarna som sjöng och spindelnäten som vävdes. Den drypande mossan och den urgamla skogen som berättade så mycket historier. Men vi var där på kurs för att lära oss om utomhusmatlagning och Wild Food on the table.             
Nässlorna är det lättaste att hitta och den är enormt rik på c-vitamin, järn och kalcium men den är även fullproppad med protein. Jag har plockat nässlor förut men alltid varit så rädd för att bränna mig, men man bränner sig inte om man inte stryker bladets kant på huden. Däremot kittlar det länge på huden och brännässlan sägs vara mycket bra mot reumatism och lågt blodtryck.Vi plockade även lindblad, maskrosblad, kirskål och ängssyra. Det blev en stor färgglad sallad som skulle kunna slå vilken restaurang som helst med häpnad, och allt var vilt och kom från en radie på 500 meter. Dessutom lagade vi till lammköttet och gädda i en matgrop. En uråldrig matlagningsprocess där värmen sluter in från alla håll, ungefär som en ugn.
Medans vi lagade till maten på det mest uråldriga sättet man hittat byggde vi även upp en bastu, en så kallad sweat lodge (eller purification ceremony som vissa kallar det) där man med hjälp av humle eller annat träslag bygger en konstruktion som man sedan täcker med stort tyg (presenning fungerar också även om det inte känns lika exklusivt). Man släpar in varma stenar från elden (som man hållit igång ett tag) och häller på vatten. Voila. En ljuvlig bastu i ett runt format.
Så medans majsolen gick ner över denna gudaliknande plats pratade vi mycket och länge om täljtekniker, olika trädslag, örter och vad naturen har att ge. Den sovande scouten i mig hade vaknat till liv och det sprätte i min kropp och talade om minnen som jag glömt sedan länge.
Vi tassade tillbaka till våra stugor och försommardimman låg tät över stenrösen och ängarna och i skogen rök det från alla kojor. Vi var inte det minsta ledsna över att vi glömt vinet och ölen hemma för vi var som berusade, nästan detoxifierade av själva upplevelsen.
Dagen efter var det åter dags att plocka örter från naturens skafferi, men den här gången stod rökt abborre, soppa och barkbröd på menyn. Till det skulle det serveras älgdricka och björksav. Rökningen är så fiffig. Man kan ta vilken gammal plåthink som helst, lägga ett tunt galler stående och liggande (som fisken får ligga på) och något slags träspån. Man kan hyvla av vilket träd som helst, och alla ger olika rökeffekter. Så ställer man den på elden och efter tio-femton minuter har man rökt fisk som smakar som något gudarna sänt.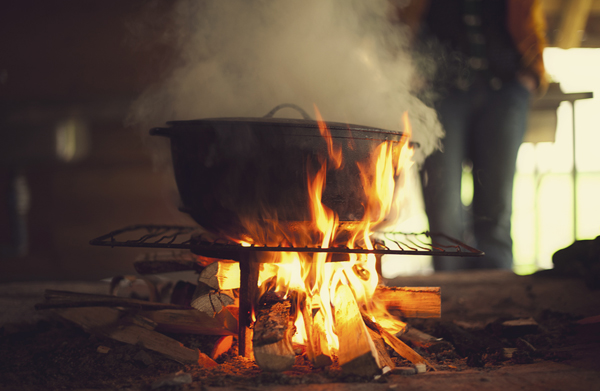 När det var dags för oss att åka hem på eftermiddagen den andra dagen kände jag mig så lättad. Upplevelsen kändes så omvälvande. Vi hade för 24 timmar gått tillbaka till det mest ursprungliga i oss själva. Samlat mat, gjort upp eld, lagat, bastat på gräs och hjälpts åt med sysslor. Som att man måste gå tillbaka för att kunna komma hem. Tillfredställa det mest primära för att känna sig komplett. Vi hade inte druckit en droppe vin och inte heller pratat så mycket buisness, men vi hade ändå haft den finaste formen av kickoff.
I bussen slog jag på min mobil som jag slagit av när jag klev in på skogserimitagestigen. Det blinkade till i telefonen. 22 samtal och 9 sms. Jag slog av den igen. Bara för en stund. Andades in doften av brasa i min jacka, tog ett djupt andetag och lovade mig själv att uppmuntra scouten inom mig att komma fram oftare. Att låta urmänniskan i mig få leva. Att slå av mobilen och ibland ha mobilfria dygn. Att leva lite långsammare, lite enklare.  Att laga mat över öppen eld. Så enkelt och så vansinnigt bra.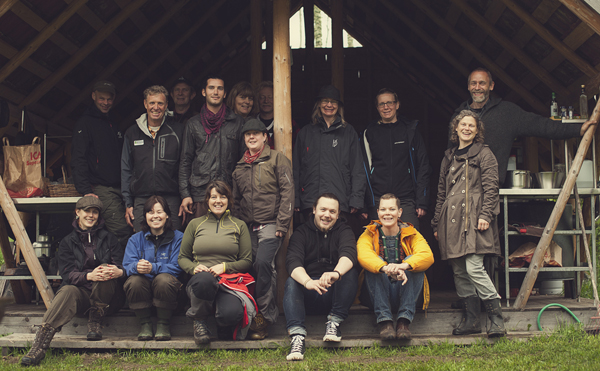 Tack Svenska Hushållningssällskapet, Urnatur, Almars Krog, Spishyllan, Sunnys Place och såklart Fröknarna Fräs.
Recept på Barkbrödchapati
(4 pers)
1 dl barkbröd
3 dl vetemjöl
50 gr smör
½ tsk vatten
Smält smöret och blanda med mjöl och salt. Blanda i kallt vatten så det blir lagom till en deg som går att kavla. Dela degen i 8 delar och kavla ut tunna (1 mm) bröd. Stek i panna utan smör på bägge sidorna tills brödet har fått färg.
 And it also got translated:
"Did you bring the wine?" I shouted to Markus at the same time as I was having a conversation on my mobile, stressed and in a rush, when I picked him up outside our restaurant.
It was an early Monday morning and we were both tired. Once we were en route to our destination, we concluded that we had indeed left both the wine and the beer behind and, as such, this was bound to be a rather dull (not to say dry!) event.
Markus is the head chef at the restaurant I run. We are a seasonal business and only open three months of the year, namely during the summer months when Sweden is at its most beautiful. These are incredibly busy months with high turnover, so the pressure is on to deliver. The weeks leading up to this period when I have to get everything in place are especially stressful – the phone doesn't stop ringing and it's all hands on deck.
A month prior I had received an invitation from the Swedish Rural Economy and Agricultural Societies for an outdoor cooking course: Wild Food On the Table. I saw this as a brilliant opportunity for a kick-off event for the fast approaching summer season and sent the invite on to some trade colleagues, and so now we were on our way to Urnatur (this roughly translates as "ancient nature"), which is located in southern part of Sweden. It is what the people who run it call a wood hermitage, intended to be "a place for reflection."
In all honesty, I didn't consider the actual course to be the main pull, but rather the chance to spend time with colleagues and drink some wine and discuss the coming months. My main objective was to just get all of us colleagues together for a much needed energy injection and motivational boost. Hand on heart, I didn't even bother checking out the home page for Urnatur because I thought I'd seen it all before. Been there, done that.
I discovered that the most wonderful thing about coming unprepared, is that you come along with an open mind and a readiness to be surprised. So when we arrived at Urnatur, it was with wonder and awe that we were met by this forester who has created this place. He has lived with native Indians previously and his wife is a textile artist, biologist and herbalist. Together, they have created this oasis of ecosophy, combining a sure instinct for design, new ideas and old traditions all rolled into one. As you would imagine, we were not the first to fall in love with this place. Photographers, artists, musicians, creative folk and various businesses from around the world have used Urnatur as the backdrop and stage for their creations. As soon as I stepped through the gates, my mobile stopped working and I felt magically seized.
The path in towards the wood hermitage where we were to stay, wound along sheep pastures and was lined by dry stone walls and oak trees a hundred years old. When we reached the hermitage I was struck by its perfect harmony. The creative mind behind this place clearly had the ultimate knowledge of how to create a perfectly harmonious space. Feng shui in its purest form. It felt so new, yet at the same time familiar, traditional, simple and… …obvious!
In the tree tops, little tree houses were constructed, connected by hanging footbridges. The first one we got to was called the Castle In the Air (Luftslottet), and had a meandering wooden ladder which lead up to this adorable love house there up in the trees. I used to love tree houses when I was little. This was a tree house for adults! It had beautiful, large windows, a bed with ironed, white sheets, a warm stove heater in the centre and you could really feel the love for carpentry that had gone into its build. Imagine being a bird, living among the tree tops!
The next tree house along was the Pilgrim Cottage (Pilgrimstugan), then followed the Hat Cottage (Hattstugan), the Coal Miner's Hut (Kolarkojan), the Moss Temple (Mosstemplet) and so the fairytale names continued all the way to the Bath House (Badhuset), which was a house with a sauna, olden style bath "barrels" and sun heated showers. No two houses were the same, each created based on its own unique potential.
If I'd had my way, I would have spent the whole day around these houses, allowing my mind to only focus on the bird song and spider webs being spun and only be part of these ancient woods that held so many stories. Alas, we were there to take a course on outdoor cooking and Wild Food On the Table, so I had to tear myself away.
First we had to gather the food. Nettles are the easiest to find and incredibly rich in vitamin C, iron and calcium, but also packed with protein. I have picked nettles before but have always been scared of getting stung, but unless you drag the edges of the leaves against your skin, you'll be fine. However, your skin will tingle for a long time after handling nettles and this is said to counteract rheumatic symptoms and blood pressure.
We also picked linden leaves, dandelion, ground elder and sorrel. All of this was turned into a magnificent, colourful salad that would hold its own on the finest of menus. Everything we used to cook was gathered from within a 500m radius. The meat, sourced from Urnatur's own farm and, fish from the nearby lake, we prepared in a "cooking pit". This is an ancient way of cooking that works just like an oven, with the heat closing in from all directions.
Whilst we cooked the food in the same way as people had done hundreds/thousands of years before us, we also built a sauna, or "purification ceremony" as it's also known. For this, you can use hops or other types of wood to build a rounded construction that you then cover with a large piece of fabric (tarpaulin also works but doesn't feel as exclusive). Then you put in warm stones from the fire (that you need to have had going for a while) and pour water over them. Et voilá!
So when the sun set over this wondrous place on this evening in May, we talked at length about carving techniques, different types of wood, herbs and their various uses and all that nature has to offer. The hitherto dormant scout cub in me suddenly sprang to life and my whole being was bursting to tell its memories that I'd forgotten I had.
When we wandered back to our tree houses, the pre-summer mist hung in a dense cover over the stone walls and fields, and smoke rising out from all the huts. We were not in the slightest upset that we had left the wine and beer behind, because in that moment we felt intoxicated from the experience itself. Like a detox for the soul.
The following day it was once again time to pick herbs from nature's own larder, but this time there was also smoked perch, soup and bread made with bark on the menu. With this, we'd also be serving "elk brew" (which has no elk based ingredients, I hasten to add!) and birch sap.
The smoking process is so clever. You can take any old sheet metal bucket, then put a thin grill above it (that you place the fish on) and add any kind of wood chips. You can slice this from type of wood, all give different tastes. Then place this on the fire and after 10-15 minutes you have smoked fish fit to serve kings.
When it was time for us to leave in the afternoon on the second days, I welled up. This experience really triggered something in me, transformed me. Over the past 24 hours we had all gone back to basics, to the most natural versions of ourselves. We'd gathered food, made fire, cooked, built and used our own sauna and worked together to satisfy our most primary needs. The process felt to me like coming home, and I'd gone back in time in order to get there. I felt complete. We hadn't had a drop of wine, nor had we talked much about business, but we couldn't have had a better kick-off.
On the bus back home, I checked my mobile. 22 missed calls and nine text messages. I smiled to myself and switched it back off. Just for a while. I inhaled the scent of camp fire that clung to my coat, took a deep breath and promised myself to let the scout cub in me out more often, to indulge the primitive and natural in me and let the Helena of xxxx hundred years ago live. Let my ancient self cook food over an open fire and make a point of having mobile free days, and let life be a little slower, a little simpler. And perhaps most of all: a little better.